With ffmpeg can you convert and multiplex almost every video file. And as it's a command line converter can you batch convert all your files at once with a basic windows/dos script. Like convert all your video files to mp4 with custom ffmpeg commands. Convert all video files audio to wav.
Tools:
ffmpeg
Guide:
Download ffmpeg from http://ffmpeg.zeranoe.com/builds/ and choose latest 32bit Static version.
Extract the ffmpeg.exe from the 7z file with 7zip and put it in same folder as your video files.
Create a folder named newfiles in your video folder.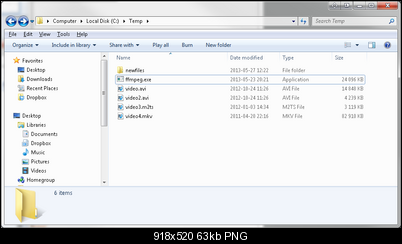 Start notepad and type the following to convert all your video files to mp4 with h264 video and aac audio. See more examples at the bottom of this guide.
Code:
for %%a in ("*.*") do ffmpeg -i "%%a" -c:v libx264 -preset slow -crf 20 -c:a libvo_aacenc -b:a 128k "newfiles\%%~na.mp4"
pause
Now save it, File->Save as, change to All files under Save as type and save it as batch.bat.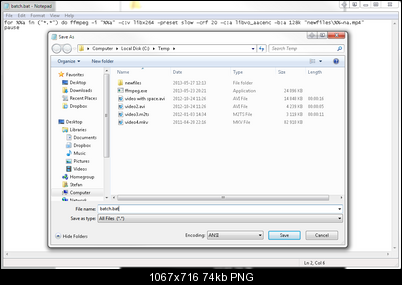 Just double click on the batch.bat to start converting. You will see any errors in the command line box.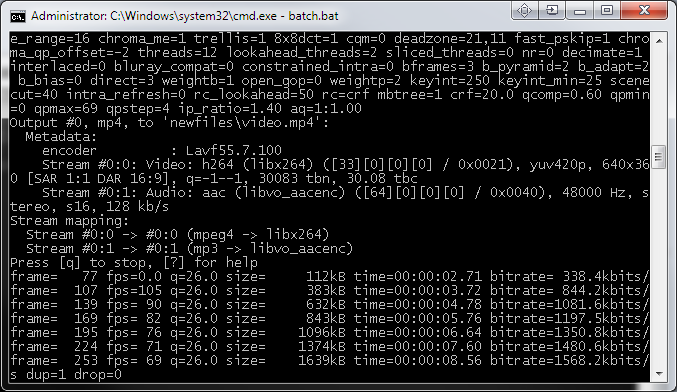 When it's done just press enter in the command line window.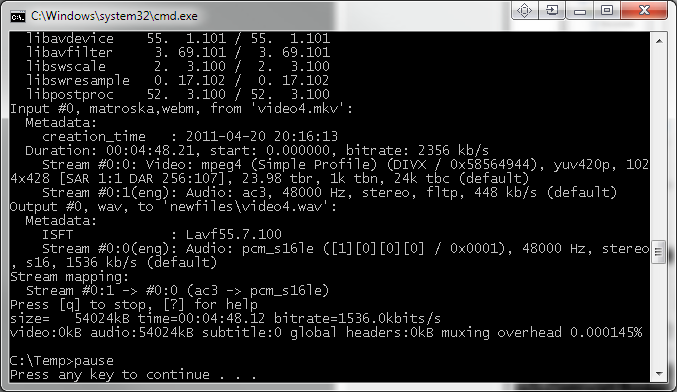 Done!
Batch ffmpeg examples:

Convert all *.avi files to mp4 with h264 and aac audio
Code:
for %%a in ("*.avi") do ffmpeg -i "%%a" -c:v libx264 -preset slow -crf 20 -c:a libvo_aacenc -b:a 128k "newfiles\%%~na.mp4"
pause
Convert *.mkv files to mp4 and just copy the video and audio streams
Code:
for %%a in ("*.mkv") do ffmpeg -i "%%a" -vcodec copy -acodec copy "newfiles\%%~na.mp4"
pause
Convert *.* files to wav audio
Code:
for %%a in ("*.*") do ffmpeg -i "%%a" "newfiles\%%~na.wav"
pause
Multiplex *.avi and *.wav files with same name to avi
Code:
for %%a in ("*.avi") do ffmpeg -i "%%~na.wav" -i "%%~na.avi" -acodec copy -vcodec copy "newfiles\%%~na.avi"
pause
Other tips:
Put ffmpeg.exe in for example C:\ffmpeg and make the newfiles folder under C:\newfiles and you never have to move around the ffmpeg.exe and make new newfiles folder all the time. You just make the batch.bat file in the video folder.
Your batch.bat script should look this then:
Code:
for %%a in ("*.*") do "C:\ffmpeg\ffmpeg" -i "%%a" -c:v libx264 -preset slow -crf 20 -c:a libvo_aacenc -b:a 128k "C:\newfiles\%%~na.mp4"
pause
More ffmpeg examples:
http://ffmpeg.org/trac/ffmpeg/wiki
http://cfc.kizzx2.com/index.php/muxing-audio-and-video-with-ffmpeg/
ffmpeg commands explained: